Cross The Ocean KAITO REMIX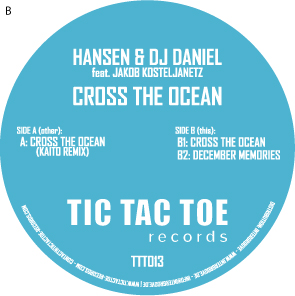 Artist:
Hansen & DJ Daniel feat. Jakob Kosteljanetz
Title: Cross The Ocean
Format: Vinyl 12"
Cat.No.: TTT 013
Releasedate: Out now!
Tracks:
A: Cross The Ocean (Kaito Remix)
B1: Cross The Ocean B2: December Memories
TIC TAC TOE RECORDS -
The top-notch Danish label for minimal house & techno – presents another slammer by our home-boys Hansen & DJ Daniel. This time, they've once again brought out their secret weapon from the arsenal – the unique vocal qualities of singer Jakob Kosteljanetz and made a fantastic track that's also been tweaked into a huuuge remix.
On this release we've employed the smooth talents of Kaito from Tokyo, Japan for a remix. He really doesn't need much of a presentation. His melodic, ambient and mellowy, trancey albums and singles on the legendary Kompakt label are well known.
Cross The Ocean (Kaito Remix)
: Summer is near – but alre ady we're pretty sure that we've found one of the HUGE TUNES for all the summer parties! Kaito has done a downright amazing 10 minute remix of the vocal track 'Cross The Ocean' – a cool piece that you can both dive dreamingly into and pa-harty away with. Between Kaito's smooth hands and the even smoother voice of Jakob Kosteljanetz, we've ended up with a killer track with a slight reminiscence of old Underworld stuff.
KAITOリミックスが出ております!是非聴いて下さいね。